Issues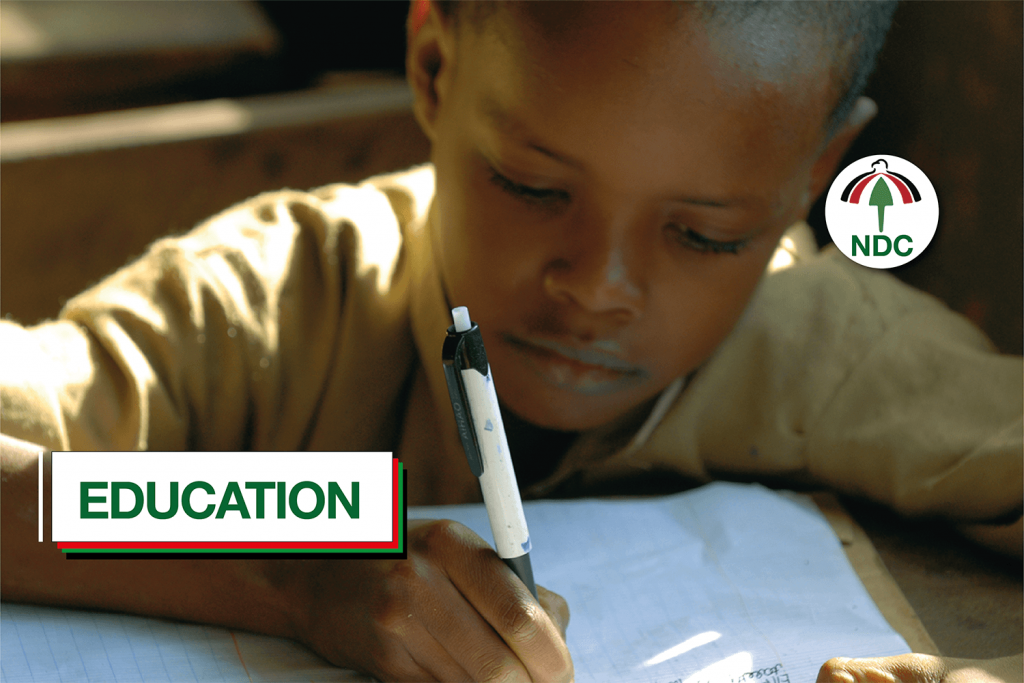 Education
Opening doors through education
The children and youth of Ghana hold our future in their hands. It is up to us, today, to deliver the tools for them to realise their potential and as a result realise Ghana's vision.
The youth need education to be academically and technically ready to explore the boundaries of knowledge and technology for their own benefit and that of our country.
Educate a nation and you build a nations wealth. I am a deep believer in the power education has to awaken the imagination and inspire innovation and it is only through these that we, as a nation, will be ready to embrace our future.
It is upon this powerful idea that we have based our work in education over the past four years.
And yes, we have delivered. The facts show this.
Delivering on our education promises
First, and crucially, we understand that a hungry child cannot learn. Our Free School Feeding Programme feeds over 1.6 million students, providing the energy required for our children to thrive, in the classroom and beyond.
Our literacy program, the Ghana Reading Action Plan, has educated 2.8 million students, opening their minds to the possibilities of imagination and communication that only reading and writing can provide.
We have created spaces conducive to learning – building 11,823 new educational institutions increasing enrolment by 1.8m students, and upskilled 110,000 teachers to grow those young minds, 50 000 of those teachers in ICT and 60 000 in Maths and Science with another 20,000 in training.
And its not just teachers and schools but the tools to make learning possible. We have provided 112 million exercise and text books, 2 million free uniforms, 60,000 laptops that supports the additional 1.8m children now enrolled in school.
These areas are of particular importance to us, because we know that today's students are tomorrow's problem solvers. Science and technology education will allow our children to create solutions to the challenges facing our country, continent and planet.
These are the facts of the past 4 years and this is just some of what we have done in educating our nation.
Education for the future
Yes – we can still do more. We will do more. In the next four years, we'll improve 175 senior high schools and build 146 new ones, increasing the spaces available to students and making our schools safe, engaging and stimulating.
Building on the success already achieved, our Education Plan will provide 100 science resource centers and train another 6,500 maths and science teachers to further our educational goals in these sectors.
We understand that technology is a critical tool in today's learning environment for both student and teacher. We will provide another 30 000 computers to schools, bringing the world into the classroom, broadening horizons and teaching our students skills that will prove invaluable in the world of tomorrow.
We've planned 129 tertiary projects for post-school students, giving them the tools to succeed in their own lives, and contribute positively to the success of our nation.
Ensuring that students have access to opportunities is vital to achieving our goals as a nation. This is why we will provide 10,400 scholarships and GHc150,000,000 in grants for skills development.
Delivering the future safely into the hands of our children, through an excellent education, requires more than talk.
It takes experience, a real understanding of the challenges, innovative thinking and a solid plan for delivery.
This is what we have delivered. It is what we will continue to deliver over the next four years.
We strongly believe in the power of education to change the lives of our children, and through them, our world.
We have begun the work of making this progress a reality for Ghana, and the facts I have shared support this. We must continue this work in the years to come.
Our children's future deserves nothing less.