Vision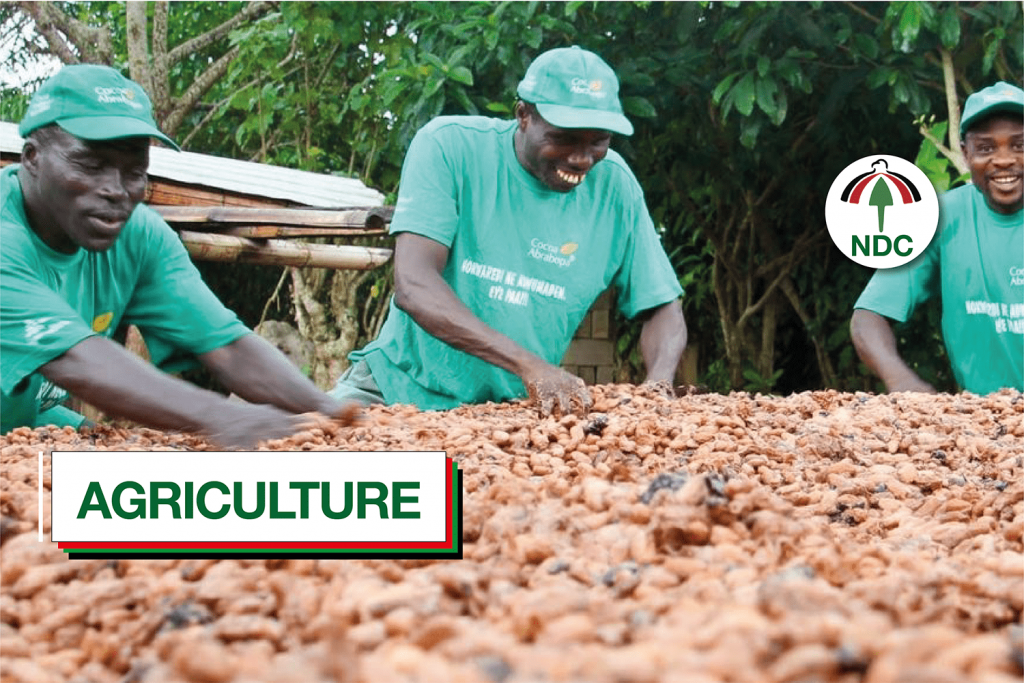 Agriculture
Feeding our region
We believe passionately in the potential Ghana has in becoming the breadbasket of the region. Our land is rich, our people resourceful and with the power of technology we can revolutionize our Agricultural and fishing industries.
We believe that not only must we increase the quantity and the quality of our produce but we must diversify our production to take advantage of the massive opportunity the Ecowas region offers us. With the market for our produce no longer just being Ghana but 300 million people in the Ecowas region.
The opportunity our farmers create is not just one of raw material export but with the incentive and development programs we have under way we believe we can and have created value added industries around our core assets – our produce.
Whilst others talk about supporting these industries we have delivered!
Supporting our farmers
In 2016 alone, we've provided 60 million free cocoa seedlings to farmers with 50 million more planned, allowing them to take advantage of the increased regional demand. The cocoa price has seen significant increases to the producer in the last two years– a great advantage to our farmers and one which they are now well-placed to benefit from
Whilst others are talking about irrigating our farms we are already doing it!
Our Irrigation Development Program has seen an additional 1,600 hectares under irrigation, and since 2008 our efforts have produced an increase of 337,000 hectares under cultivation giving 8 million more metric tonnes of crops and 31 million additional livestock.
Our Fertilizer Subsidy Program, has provided 680,000 tonnes of subsidized fertilizer to farmers. We've increased storage facilities and access to essential machinery and services, through the provision of 22 additional agricultural mechanical service centres.
Getting the youth back the land
We need our youth to return to farming and bring their energy and innovation to the farms. In an effort to encourage our young farmers we have provided incentive packages for them.
Indeed, these projects have provided over 23 000 jobs for youth in agriculture.
The results we have delivered to our farmers are clear to see, and we shall continue to partner with them to ensure their success.
Our fishermen, too, have benefited from successful delivery of our vision. We have provided 1,600 outboard motors, with an order placed for 3,000 more, and built 6 cold store facilities.
This will be followed by solar power refrigeration units, so that the "catch of the day" may last longer, allowing our fishermen more time to take advantage of the improved road network and reach more customers in outlying areas.
The fish processing plant we have built yields 100 metric tonnes per day, optimizing production yield and allowing for greater output.
Trawlers have been fitted with fish finders and tracking devices, using the latest technology to take fishing into the future.
We must not forget the roads we are building, the ports we are improving and the railways we are building – are all to support our industries, our farmers and our people – ensuring we can get your Product to your market and our people to you.
Whilst others talk about supporting the fishing industry – we are delivering!
Growth through strategy
We have a clear plan to GROW our Agricultural and fishing industries to ensure that we as a nation can take advantage of our natural resources and the massive market opportunities opening up to us through ECOWAS.
Our national export strategy will double the revenue gained from exports such as fruits, grains and fish.
All businesses no matter how big or small need access to funding to help them get started, maintain and grow their business. We know that the large financial institutions are not geared to handle SMME's so we will be focused on developing the capacity and skills of the regional micro-finance institutions. Not only will we govern them but we will ensure they have the focus, skills and expertise to support you by providing access to reasonable financing.
Growth and diversification can only come from leveraging technology and we will focus on creating access to and the leveraging of technology to help exponentially grow our Agricultural and fishing industries.
Our Buy Ghana initiative, whilst focused internally initially, will expand internationally. We will create demand for Ghana made products across the ECOWAS region and all our European trading partners.
While others talk about supporting the industry – We Deliver!
We have a Vision : We have A Plan and our track record of Delivery Speaks for itself – Grow with us into a future our children will be proud of!